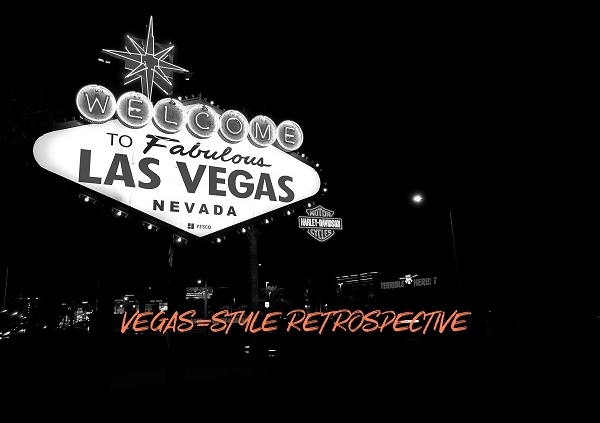 Vegas-Style Retrospective by Giora Morein
Vegas-style retrospective might really be the difference-maker in helping your team identify and exploit those improvement opportunities that can propel them through the stratosphere.
What happens in Vegas, stays in Vegas! This famous tag line might not immediately sound like it has much to do with agile learning or Scrum teams. However, I've found that implementing a Vegas-Style approach to your sprint retrospectives can make a real difference to how valuable they are. The idea is simple: What Happens in the Retrospective, Stays in the Retrospective!
The sprint retrospective might be the most important meeting that a Scrum team has. During this time, you and your team explores and analyses opportunities and improvements that the team can take advantage of in the next sprint.
In order for a retrospective to be effective, participants need to be open, transparent, honest and forthcoming.  This requires that participants feel safe to do so.  Much of what a ScrumMaster does during retrospectives is to create an environment that is safe enough to allow for this transparency.
Vegas-Style Retrospectives mean:
It's a private meeting.
It's a confidential meeting.
Only members of the scrum team are invited.
No meeting minutes. No notes. No recordings.
Activities and learnings are not shared.
This creates a safe environment where team members feel able to truly open up about how they feel, and their ideas for moving forward. This not only helps explores more improvement opportunities but will typically help bond team members closer together.
If you love these Agile QuickTips, make sure to subscribe to my blog at ThinkLouder.com so that you never miss an episode. Take a look over our library of QuickTips to make sure you're up to date. You'll also want to join our online communities on social media, from Facebook and Twitter, to LinkedIn and YouTube. We'd love to see you there!
https://thinklouder.com/wp-content/uploads/2019/07/LA-Web.jpg
450
600
Giora Morein
http://thinklouder.com/wp-content/uploads/2018/07/final-logo-01.png
Giora Morein
2019-07-02 07:00:43
2019-07-03 10:59:01
Agile QuickTip: Vegas-Style Retrospective